/
Bye Bye trockene Haut und Irritationen // COSRX – Balancium Comfort Ceramide Cream
PR-Sample
COSRX haut 2018 ein Produkt nach dem anderen raus. So langsam verliere auch ich den Überblick. Manche werden exklusiv nur in speziellen Shops angeboten, andere bekommt man nur in Korea. Wirklich Kunden freundlich ist dies nicht und wenn ich ehrlich bin, mag ich es gar nicht, wenn es für mich unmöglich ist an ein Produkt heran zu kommen.
Abgesehen davon konnte ich es kaum erwarten die COSRX – Balancium Comfort Ceramide Cream auszuprobieren. Cremes sind die Skincare Produkte, die mich ehrlich gesagt am wenigsten interessieren. Seren, Mists, Masken und so weiter sind um einiges spannender als eine Creme. Im Sommer verzichte ich auch gerne mal auf solche, im Winter brauche ich sie Wiederrum, da meine Haut unfassbar trocken wird.
Als ich dann die Balancium Comfort Ceramide Cream von COSRX entdeckt hatte, war ich dir4ekt Feuer und Flamme. Die Verpackung gefiel mir direkt super gut. Kein Tiegel, sondern eine Tube. Ich persönlich mag diese lieber. Klar ein Tiegel schaut hübscher aus, aber ne Tube ist meiner Meinung nach hygienischer. Das weiß in Kombination mit dem pastel-rosa ist absolut mein Beuteschema.
COSRX beschreibt sein Produkt wie folgt:
eine leichter Moisturizer, welcher irritierte Haut beruhigt und die Hautbarriere schützt

10,000 ppm of Ceramide NP, 50% of Centella Asiatica Leaf Water und 500 ppm of Centella Asiatica Medical Grade Extract

EWG verifiziert (Safe Level), keine künstlichen Inhaltsstoffe, hypoallergen und cruelty-free
Gut für trockene, sensitive und Mischhaut
beruhigt, heilt, spendet Feuchtigkeit und schützt
Ich benutze die Balancium Comfort Ceramide Cream als letzten Schritt meiner Routine – abends trage ich dann ab und an noch ein Nightpack drüber.
Die Textur ist genial – leicht "dicke" Creme, die ein samtiges Gefühl hinterlässt und die Haut sofort weich macht. Die Creme zieht super schnell ein und hinterlässt kein klebriges Gefühl. Das verteilen ist nicht ganz so einfach, wie bei zum Beispiel Gel-Cremes, aber dennoch lässt sich die Balancium Comfort Ceramide Cream gut verteilen.
Die Creme riecht leicht nach Citrus und Kräutern. Super leicht und nicht penetrant. Ich steh drauf! Viele koreanische Firmen nutzen Citrus Öl um ihre Produkte zum duften zu bringen. Für mich ist das nicht schlimm, aber einige könnte sensitiv darauf reagieren.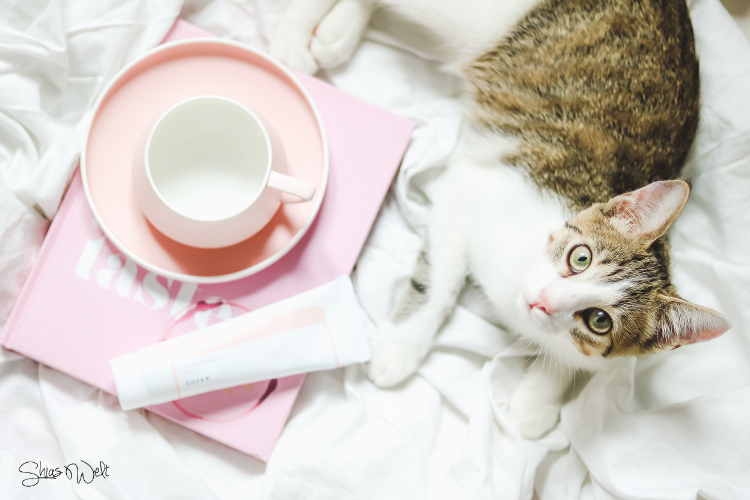 Die Balancium Comfort Ceramide Cream ist genial! Es beruhigt meine Haut, Rötungen sind weniger seitdem ich sie nutze und ich habe das Gefühl, dass meine Hautbarriere stärker ist. Trockene Haut ist passe. Was mich wundert? Ich kann die Creme sowohl tagsüber unter Make Up als auch nachts tragen. Ich hatte Anfangs etwas bedenken, dass sie zu reichhaltig für den Tag ist – meine Make Up verträgt sich aber hervorragend mit der Balancium Comfort Ceramide Cream. Nach dem Auftragen glänzt die Haut nicht, sondern die Creme hinterlässt ein Satin-Finish.
Tagsüber nutze ich eine dünnere Schicht – Nachts eine dickere, sodass die Haut über Nacht intensiv gepflegt wird.Wenn meine Haut irritiert ist oder ich das Gefühl habe sie braucht extra Feuchtigkeit, dann nutze ich die Balancium Comfort Ceramide Cream besonders gerne. Trockene Stellen verschwinden super schnell und kommen nicht wieder.
Aber eine negative Sache hat das Ganze: Wie schon oben erwähnt hat COSRX aktuell viele exklusive Collabs und genau so ist es auch bei der Balancium Comfort Ceramide Cream. Sie ist Amazon exklusiv und nur für alle erhältlich, die in den USA leben. Ich hoffe, dass sie dies bald ändern, denn ernsthaft – Ihr braucht diese Creme in eurem Leben. Der Preis liegt bei 26$/80g – welcher absolut okay ist für so ein geniales Produkt.
Welches ist euer liebstes COSRX Produkt?
Lasst mir eine Kommentar da!