/
Anastasia Beverly Hills Moonchild Glow Kit – ein Must Have?
Das Anastasia Beverly Hills Moonchild Glowkit ist die erste Highlighter Palette in meinem Besitz. Lange, wirklich lange hat sie mich kalt gelassen, bis zu den einem Abend in Korea…
Ich saß mal wieder vor dem Laptop, wartete auf meinen Freund und stöberte auf Instagram umher. Ein Bild auf dem ich einen genialen Highlighter gehen habe ging mir nicht mehr aus dem Kopf. Kurz recherchiert und schnell war klar, der Highlighter gehört zum Moonchild Glow Kit. Zunächst wollte ich auf Kleiderkreisel danach schauen, dort hätte ich auch fast eine Palette gekauft, bis mir im letzten Moment auffiel, dass an der Verpackung etwas nicht stimmte. Das Moonchild Logo war nicht da wo es sein sollte. Natürlich habe ich die Kreisauerin sofort darauf angesprochen, ob es sich um einen Fake handeln würde und darauf erwiderte sie "Ja, aber es ist ein sehr gutes Fake, sogar besser als das original!" Ahja! Ne, danke! Lange rede kurzer Sinn: Bestellt habe ich direkt bei Anastasia Beverly Hills in Amerika. Innerhalb von 4 Tagen war die Palette in Deutschland für den gleichen Preis, den ich auch bei Kleiderkreisel für das Fake zahlen sollte.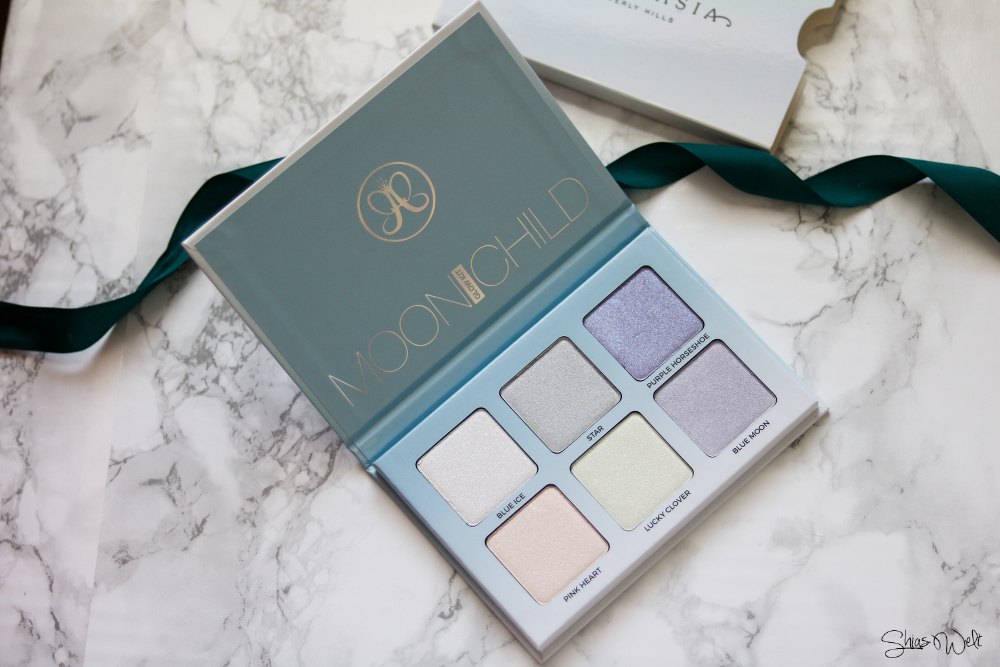 Die Palette enthält 6 Highlighter mit recht speziellen Farben. Seit noch nicht einem Jahr stehe ich total auf Highlighter und nutze diese auch täglich. Mich reizt ja auch sehr die Kat Van D Alchemist Highlighter Palette, aber diese ists so teuer und es ist so viel weniger Produkt enthalten, dass kann ich einfach nicht übers Herz bringen. Die Verpackung ist zwar unglaublich toll und die Highlighter besitzen keinen Glitzer wie die ABH Moonchild Highlighter, aber der Preis ….
Bei vielen habe ich gelesen, dass die Palette kaputt angekommen ist und ich hatte wirklich Angst, dass auch mich dieses Schicksal ereignen wird, aber ich hatte Glück! Allerdings muss ich sagen, dass die Palette nicht gut verpackt war und es kein Wunder gewesen wäre, wenn auch meine Palette zerstört hier angekommen wäre. Bei dem Preis sollte man da echt besser mit umgehen!
 Anastasia Beverly Hills beschreibt die Highlighter wie folgt:
Blue Ice – Diamond white with an icy blue reflect
Star – A moonstone fusion of mint, platinum and silver reflect
Purple Horseshoe – A glittering lavender with an arctic blue reflect
Pink Heart – Pearl white with a pink opal reflect
Lucky Clover – A shamrock-infused gold with canary yellow diamond reflect
Blue Moon – Frozen blue with a silver reflect
Besser könnte ich die Highlighter nicht beschreiben und ich muss sagen, dass die Qualität 1A ist. Schön weich und zart lassen sie sich super mit einem Pinsel oder dem Finger auftragen. Ich kann so langsam dem Hype um die ABH Produkte verstehen und diese Palette wird bestimmt nicht die letzte bleiben.
Was einige vielleicht nicht mögen werden, ist der relativ grobe Glitzer, der in den Farben enthalten ist. Mich selbst stört es nicht, aber dennoch finde ich Highlighter ohne einfach schöner!
Mein absoluter Favorit ist Pink Heart. Ich stehe total auf Highlighter mit pinkem Einschlag, denn dies harmoniert so schön mit meinen Haaren. In jedem Pfännchen befinden sich 4,2g Produkt und für die Palette habe ich um die 55€ mit Versand bezahlt.
Wie gefällt euch das Anastasia Beverly Hills Moonchild Glow Kit? Wäre es etwas für euch? Besitzt ihr es?
Schreibt es mir in die Kommentare