Das Anastasia Beverly Hills Aurora Glow Kit ist voll mit außergewöhnlichen Highlighter. Anfangs so gar nicht meins und jetzt täglich im Gebrauch…
Wieder einmal typisch ich. Ewig nicht haben wollen. Nich interessiert sein. Und zack ist es im Sale ist das Produkt dann doch interessant. Lasst euch vorneweg gesagt sein, die Swatches im World Wide Web werden dieser Palette nicht gerecht. Absolut nicht. Die Farben wirken teilweise nicht tragbar – In Wirklichkeit sind die Farben aber der absolute Hammer und unfassbar besonders.
Neben meiner Moonchild Palette ist die Aurora nun eine meiner Favoriten. Die Anastasia Beverly Hills Highlighter sind einfach mega. Im Gegensatz zur Moonchild Palette ist die Aurora nicht ganz so glitzernd.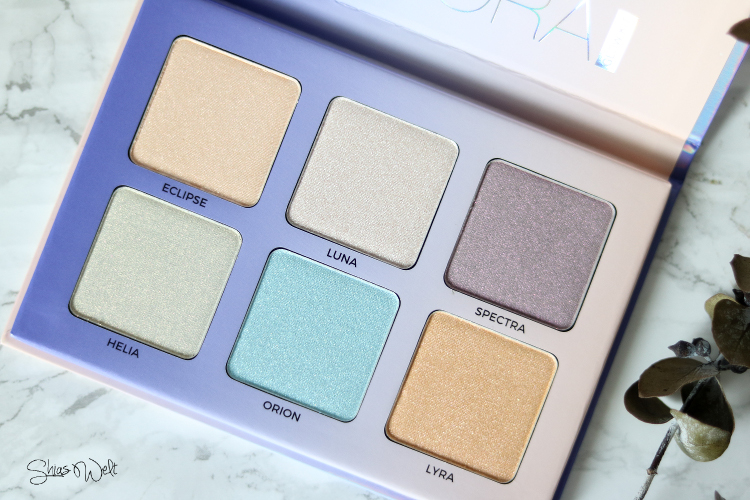 Anastasia Beverly Hills Aurora Glow Kit
Die Highlighter werden von Anastasia Beverly Hills wie folgt beschrieben:
Eclipse – Pink champagne pearl with a peach reflect
Luna – Mother of pearl with an icy orchid reflect
Spectra – Sparkling lilac pearl with an iridescent blue-green reflect
Helia – Yellow gold pearl with a turquoise reflect
Orion – Blue pearl with a purple amethyst reflect
Lyra – Rose gold pearl with a champagne orchid reflect
Eclipse und Spectra sind definitiv meine Favoriten. Wunderschön reflektieren beide Farben im Licht. Alle Farben lassen sich übrigens auch hervorragend als Lidschatten verwenden – was ich auch oft und gerne mache! Die Qualität ist super – tolle Pigmentierung. Alle Farben etwas besonderes und eine tolle Highlighter Variation.
Bei Orion hatte ich etwas meine Bedenken. Blauer Highlighter kann schnell etwas seltsam aussehen. Aber ich muss sagen, dass Orion aufgetragen einfach mega aussieht. Nein, es schaut nicht aus, als ob man eine blaue Wange vom Türrahmen bekommen hat! Davon bin ich nämlich anfangs ausgegangen.
Das Aurora Glow Kit hat mich absolut überrascht. Im Internet sah es so unscheinbar und nun bin ich ganz hin und weg! Bei Beautybay gibt es das Glow Kit aktuell für ca. 24€ – ein absoluter Schnapper, den ihr euch auf keinen Fall entgehen lassen solltet.
Wie gefällt euch das Aurora Glow Kit? Wäre es etwas für euch? Was ist euer liebster Highlighter?